THE PASSION PLAY OF FOOTBALL'S INVISIBLE
July 23, 2021
Boston Renegades quarterback Allison Cahill waited 665 days for this throw.

On Saturday, May 8, 2021, the 40-year-old woman launched her first pass of the season, finding wide receiver Stephanie Pascual for an 11-yard gain. The drive began a merciless rout of the Detroit Dark Angels at Harry Della Russo Stadium in Revere, Mass. The back-to-back champions finished the first quarter with a 34-point lead.

The coronavirus (COVID-19) pandemic forced the Women's Football Alliance (WFA) to cancel its 2020 campaign, throwing the league into hiatus for nearly two years. That Saturday afternoon, the association officially returned, reigniting Boston's hopes for a historic three-peat.

So too returned a sad but familiar reality for the women in helmets.

"I think football is one of the last bastions [of gender discrimination] because it's such a contact sport and people have seen it as such a hyper-masculine sport," says Dan Lebowitz, Northeastern University's executive director at its Center for the Study of Sport in Society.

"That's just an outgrowth of the 5,000 years of patriarchy on the planet," he adds, speaking of the subjugation of female athletes and women in general.

Before the pandemic hit, Cahill had won five national championships in two professional leagues over a 17-year period, according to the Renegades' website. She collected three MVP awards, passed for more than 20,000 yards, and found the end zone in the air almost 300 times — becoming the only quarterback in women's tackle football to reach 100 career victories.

"If she was a man, she'd be in the Hall of Fame without a doubt," Lebowitz says. Instead, Cahill juggles shifts as a personal trainer at Equinox Sports Club in Boston, two evening practice sessions, and self-organized weekend drills every week for seven months a year, adding Saturday games to the schedule when a season kicks off.

"That's saying 'no' to a lot of things," Cahill explains. "And a lot of people that you care about."

Over the remaining five months, she makes up for the things she sacrificed — such as family gatherings and traveling. But some opportunities are gone for good. The window has closed on a career in aviation Cahill considered in the past as she can't turn the clock back to meet the U.S. Air Force's enlistment age limit of 39.

To play America's beloved game, female athletes must stock up on willpower and perseverance, fighting for basic recognition while going against powerful narratives. And, with no glory, acclaim, and financial reward awaiting in return — perks still reserved for men only.

"Right now, it's a passion play. Something that we do for the love of the game," says Sam Rapoport, the NFL's director of football development and former Montreal Blitz quarterback.

Yet football does not feel like a burden to many female players.

"It's always felt like such a privilege," Cahill says.
Growing up in Uxbridge, Mass., in the 1980s, Cahill always gravitated toward playing ball with the boys rather than "whatever the girls were doing," she says. In the sixth grade, she became the first girl to play in her local flag football league. But going into high school, the physical difference between puberty-hitting boys and her 115-pound frame became too much to overcome, forcing Cahill to fulfill her athletic potential through basketball.

For many young girls, this particular moment of adolescence marks the end of their football dream, she points out.
Cahill graduated from Uxbridge High School as a star guard and the school's all-time leading scorer in 1999. Over the next four years, she became one of the best 3-point shooters in Princeton University history, scoring over 1,000 points during her college career.

Yet a twist of fate brought the woman back to her original sporting love in 2003.

During her senior year of college, a roommate had introduced her to the Providence-based New England Storm, whose 2001 championship in the now-defunct Women's Professional Football League (WPFL) earned a congratulatory speech on the floor of the U.S. Senate from then-Rhode Island Senator Lincoln Chafee.

In her professional debut, Cahill's first throw landed in the hands of a Minnesota Vixen cornerback. The Storm folded the following year with the turmoil costing the quarterback the entirety of the 2004 season. Cahill suited up for the Massachusetts Mutiny in 2005 – an organization that would change the name twice before becoming the Renegades a decade later.
Cahill's growing passion for football required financial discipline to make a living and cover the sport's monetary costs: the annual $750 participation fee, travel expenses for away games, and medical bills, to name a few. Her commission-based income, alongside football's time commitment, effectively put a financial ceiling on the quarterback's life.

However, Cahill deemed the sacrifices worth the struggle, consciously refusing to follow ordinary life trajectories.

"So many people are just sleepwalking through life like lemmings and I'm just like, 'Holy shit, I get to do this?'" Cahill thought of her career.

Football also introduced a like-minded character into her life who eventually joined the quarterback on the unorthodox path: Whitney Zelee, Boston's running back who would become Cahill's long-term partner.

Over the years, Cahill has drawn comparisons to the fabled Tom Brady — even though the pair's playing styles couldn't be any more different. The New England Patriots legend is tall, not too mobile, the archetype of a pocket passer. She's 5-foot-5 and constantly moves around, often playing out of the shotgun formation.

But they played for nearly two decades in New England, winning multiple titles along the way. Members of the Renegades organization discern one more commonality between Brady and Cahill: the everlasting drive for perfection.

"You're not going to find someone that's going to outwork her," says general manager Ben Brown.

Head coach John Johnson usually marvels at the commitment of the female players in his charge.

"The ladies put forth 110% effort every single day they're out there," Johnson says. "When you talk about passion for the game… [it] drives everything we do."

Yet as impressed as he is with the entire team, Cahill stands out.

"She wants to compete at everything," Johnson says. "And she wants to win at everything."

The "everything" includes a pursuit of Brady's title count. Although she doesn't compare herself to the 43-year-old Buccaneers quarterback, Cahill admits that seeing him triumphant again and again fuels her determination to win rings on her own.

"Every time I close the gap, he gets another one," Cahill says, laughing.

"But only one of us knows that this competition is going on."
Two shovels laid in the trunk of Cahill's Lexus RX 350 as she headed to East Boston Memorial Park on Oct. 31, 2020. The quarterback had summoned a few Renegades receivers and tight ends for a 10 a.m. Halloween training session — in spite of Boston's record October snowfall the night before.

She arrived 40 minutes early. The five-time national champion started carving out a rectangle about 34 yards long and 25 yards wide in the snow-covered field. Cahill placed the shovel's handle grip against her stomach for extra leverage. Whenever she snagged on a chunk of ice, the shovel's handle would punch her in the gut.

But the football-deprived quarterback welcomed the pain.

"It's kind of nice to take a hit," she would later tell wide receiver Chanté Bonds.
"It's been so long."
Cahill had never taken a break that long from football. Yet, COVID-19 made the return a complex and potentially risk-involving mission.

The threat of coronavirus exposure coupled with the WFA's limited capability to mitigate the virus' spread during the season prompted concerns over the Renegades players' day jobs and financial security. The league promised to develop a rapid coronavirus testing program, but Cahill knew nothing about its availability even after the 2021 campaign started.

The COVID-19 vaccine rollout in the U.S. would eventually alleviate the many pandemic-related health concerns — although the emergence of new coronavirus variants remained a threat.

Months marred by inconveniences preceded the Renegades' return to Harry Della Russo Stadium. Among them: warm-ups on a yoga mat in the parking lot; indoor practice sessions conducted in small pods, spread across the training field; and a cat and mouse game with face masks, aimed to figure out the most convenient way to wear them underneath the football helmet.

The mask grappling impacted the players' communication as the women couldn't easily reach for their mouth guards and take them out through the additional face covering, Cahill says.

But the Renegades are no stranger to adaptation having years to perfect the art of improvisation, necessary to carry on playing.

"As an entrepreneur, I was working remotely before it was cool," wide receiver Adrienne Smith says.

Based in New York City, Smith commutes to Boston for at least one practice session a week during the season and then travels to the host city of each Renegades game.
But she can attend the team's tactical seminars from the comfort of her home thanks to the virtual class system the coaching staff introduced about six years ago — needed to accommodate players living outside Massachusetts like Smith.

Those living locally can attend the weekend practice sessions that Cahill regularly organizes every year, just as she did on that snowy Halloween morning.
There, younger players learn the game's basics at a slower pace while the football-hungry veterans get to work on the nuances in a pursuit of their athletic apex.
The pursuit that at times can feel like a Sisyphean task — even for the practice-loving Cahill.
"I still feel like [my career is] probably equivalent to two or three years' worth of [men's]," the now-four-time MVP says.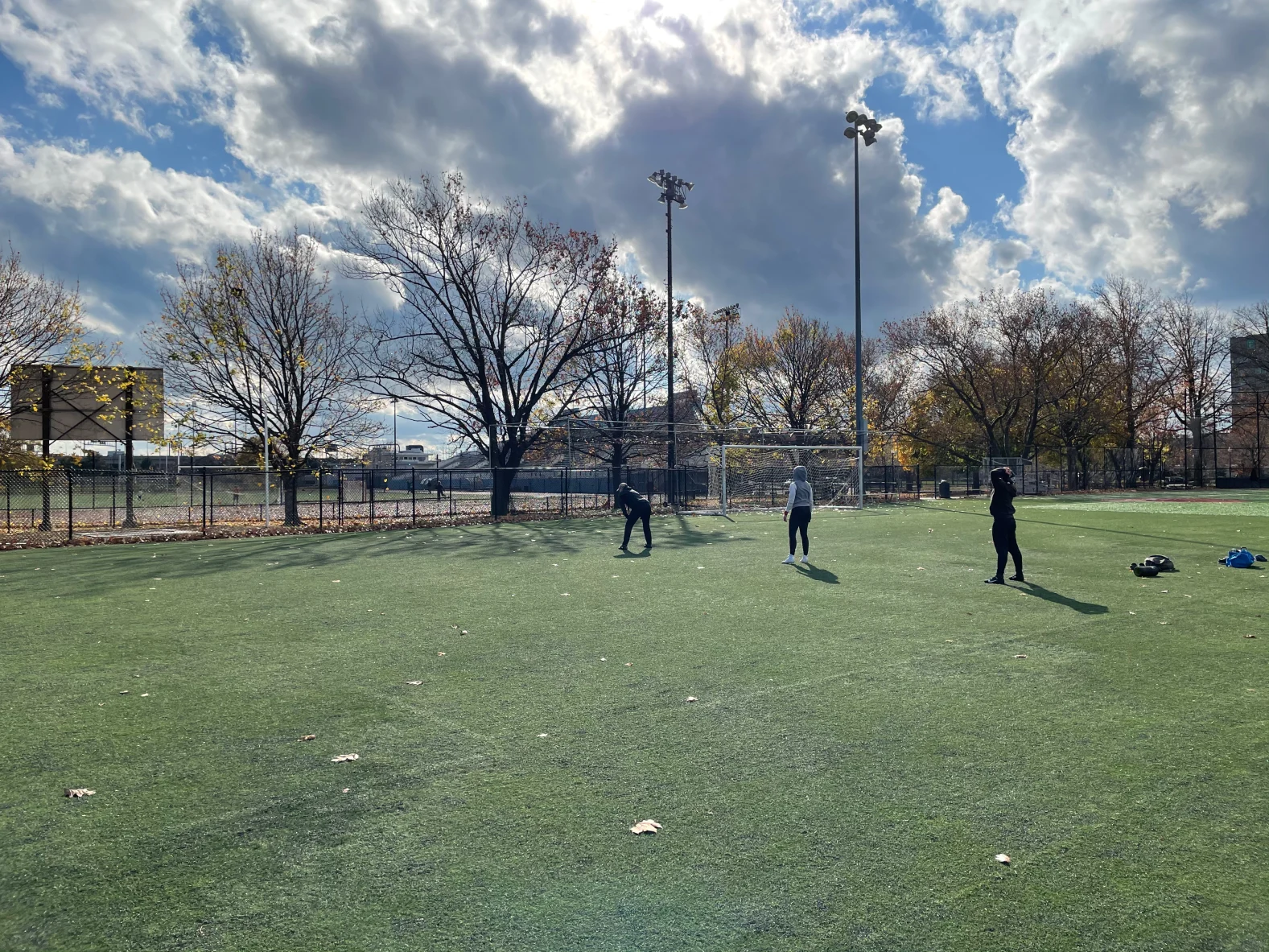 A lack of professional medical equipment and America's current healthcare system can still cut the women's playing years short. If injured, Renegades players go through the usual primary care and referral process which, Cahill says, only those with good insurance coverage can bypass by connecting with a specialist through the team's trainers.

Yet, the women often rush back to work at the expense of rehab, particularly if they have run out of paid time off. Deprived of her source of income, Cahill resumed personal training sessions just over a week after breaking her collarbone in 2016.
She coached her clients verbally with a bulky sling on her arm and a brown ponytail drooping down her back, which Zelee, her partner, had to help tying up.

And when Zelee ended up on crutches after breaking her ankle two years earlier, Cahill relied on a network of friends who brought her to work and back via the commuter boat.
But the sacrifices aren't always met with sympathy and admiration. Friends and family often resent the women for missing social gatherings and spending too much time away for the sake of what they consider just a mere hobby.
"We either have to almost indoctrinate our family and friends or those relationships just fall by the wayside," Cahill says.

Little do they know that by belittling the players' passion, they further trap the sport in a vicious cycle of false narratives.

"We create these false narratives around women: they're not as athletic as men, they don't perform as well, we can't market them, and on and on. And yet those narratives don't hold up," Dan Lebowitz says.

"Once you create a narrative, it's hard to elevate above [it]."

Cahill admits she is privileged to have had her family's support and understanding throughout her career. But the quarterback has seen many of her teammates hurt by the very people they expected to have in their corner.

"But I know you're not really in my corner at the end of the day," Cahill says, as if sharing the pains of her fellow Renegades' ill-treatment.

"It's almost freeing in a way," she continues. "It kind of exposes and brings to light who your true friends and family are."

Ostracism can await those who reveal themselves to be less than supportive.

"I probably would just cut that person out of my life," Cahill says.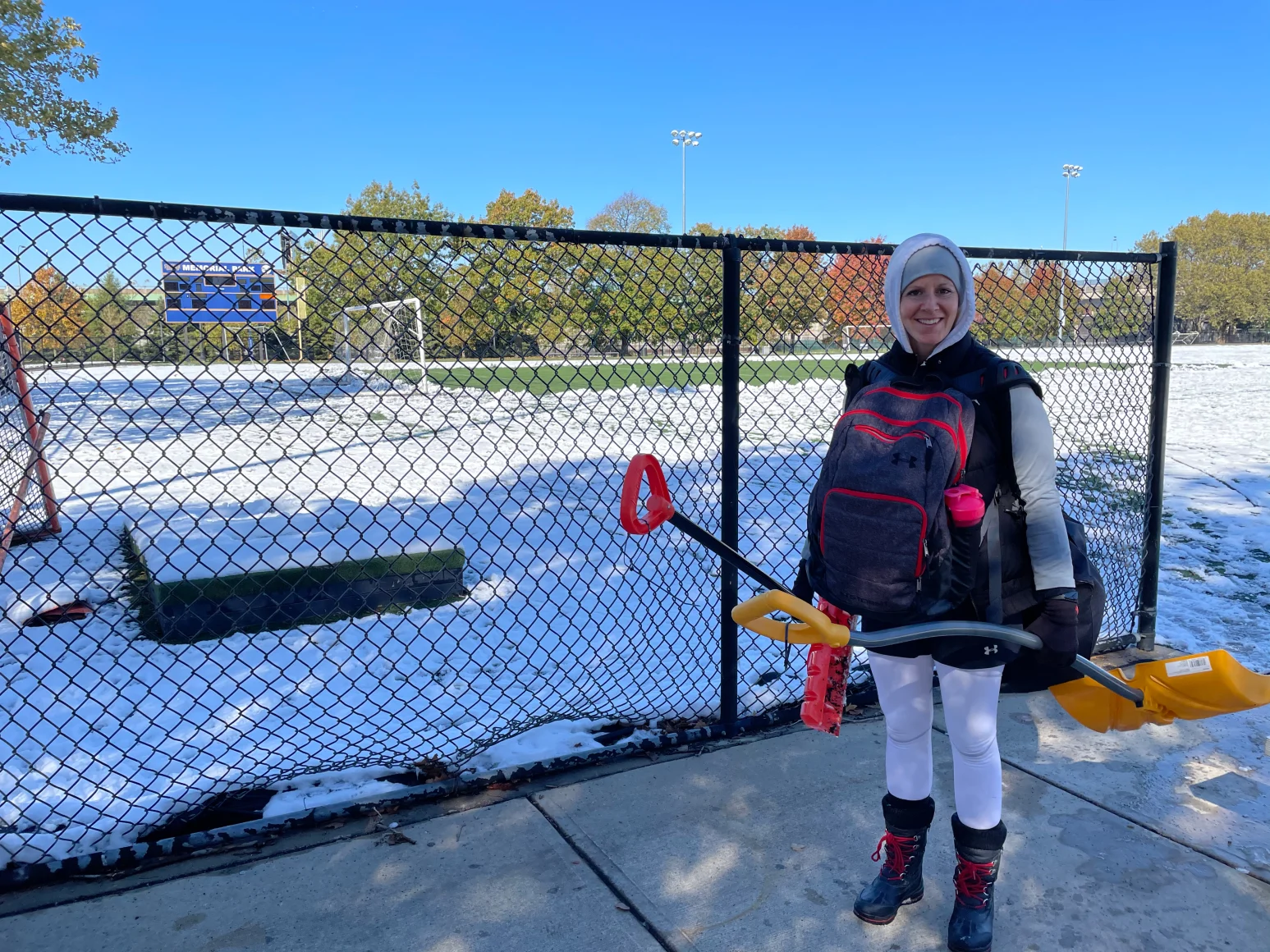 Cahill carefully guided Zelee through lower body exercises at Equinox in the morning of Monday, Feb. 8, 2021 — about 12 hours after watching the Tampa Bay Buccaneers beat the Kansas City Chiefs 31-9 in Super Bowl LV.

The quarterback had been looking forward to this, her first in-person shift since the pandemic caused the gym to shut down over six weeks ago. Her enthusiasm prevailed despite the presence of particularly irritating gym dwellers she calls "Average Joes" – who blow off their Monday morning workouts and engage in amateur football punditry after watching the game from the comfort of their sofas.

"You know nothing," she murmured, covertly pointing at a "Joe" behind her.

In her glory days, Zelee hauled 400 pounds on the trap bar deadlift and ran for over 2,000 yards during the eight-game WFA regular season in 2013, scoring 37 touchdowns. Her performances earned the MVP award and a profile on her meteoric rise in Bleacher Report.

Then, four major injuries forced Zelee to retire in 2017.

"I think the worst one was her ACL," Cahill says.

Zelee went down with the leg injury in the first quarter of a May 2015 game against the D.C. Divas. Her team's medical staff sent her back onto the field in the second, apparently unaware she had torn the ACL.

Heading for a handoff on her first play back, Zelee "crumbled in a heap" before reaching Cahill – who had to stay in the game while trying to avoid "becoming an emotional wreck," the quarterback recalls.

Zelee hoped for a prompt recovery, inspired by the fabled comeback of Adrian Peterson in 2012. The former Minnesota Vikings running back rushed for over 2,000 yards just eight months after tearing his ACL and MCL.

Without access to NFL-grade rehab facilities, Zelee spent two years nursing her knee. She still put the helmet back on 12 months later, playing through the pain in the second part of the 2016 WFA season.
As her health kept deteriorating, the running back began overreacting to the slightest odd sound her body made. With Zelee's injury woes mounting, guilt-ridden Cahill tried to hide her own frustration when dealing with the collarbone fracture, the 33-year-old recalls.
"I can tell when [Cahill] feels bad because she gets very quiet," Zelee says, adding she can recall numerous quiet spells in their relationship during that time – often accompanied by tears.

But her relatives stood on the opposite side of the empathy spectrum, Zelee says. She thought they didn't understand the severity of her injuries; they also rarely saw her play.
It hurt seeing other Renegades' families cheer from the stands, Zelee continues.
The more distant her family became, the deeper the bond she developed with her Renegades teammates. She felt seen among them, without attracting more attention than her shy personality could tolerate.

But above all, she treasured the special time she could spend with Cahill in the backfield.

"I felt more comfortable there [socially] than I had been anywhere else," Zelee says.

Cahill explains many women find a home in football that they didn't know they missed.

"It's actually quite beautiful," she says.
"We do come from all walks of life, but it's just such a deep bond that it really fills a missing piece."

She likens it to a military bond.

"We're going to go into battle," she says.
"We're all entirely dependent on one another for our physical safety and survival. The offensive line is literally a barrier, a physical barrier meant to protect me. They're putting themselves in harm's way so that I stay safe.

"Where else do you get that in life?" she asks.

"And, for almost nothing. There's no money. There's no notoriety. There's no glory. They signed up for that knowing that they're going to get very little in return, at least in terms of tangible benefits.

"The intangible, I think, is why we're all still here."

The intangible morphed into tangible for Cahill and Zelee on December 31, 2020, when they exchanged sterling silver rings to solidify their holy matrimony at Southborough Town Hall. Before the wedding day, Cahill had ordered three sets of rings for the occasion – all in different sizes, having struggled to measure her and Zelee's fingers at home.

Each set cost $12.99 and came from Amazon.
…
Early in their relationship, Cahill charmed Zelee with her sincerity, leadership, and support, oftentimes manifested in the form of supportive text messages. Despite her introverted nature, the quarterback asked about the running back's well-being or praised her for a job well done.

But Cahill's sympathy needs to be earned.

"She can be an intimidating figure," Zelee admits, laughing.

As a Renegades leader, Cahill tries to show compassion toward inexperienced players – taming her competitive spirit even when the rookies don't excel at football. The quarterback reminds herself that many women couldn't start their careers as early as at 22, couldn't enjoy financial stability and schedule flexibility to train for several hours a week, or stay relatively injury-free for nearly two decades, as she has.

However, Cahill will call out the wannabe players who don't understand the Renegades' devotion to hard work.

"People who aren't so hot at [football] don't always commit to the extent that I want them to," Cahill says.

"And I'm just like, 'Why are you here?'"

Zelee's first memory of her future wife was Cahill's scorn for out-of-shape players during her first tryout in Somerville in 2010.
A decade later, during one of the first joint training sessions after the coronavirus brought the world to a halt, Cahill ended Boston's second tryout with a similar dressing-down. She reminded the huddled-up women of the importance of donning the team's colors — black, red, and white.
It was Oct. 24, 2020.

"Nobody would wear a pink shirt to a Patriots practice," she explained, adding that grey clothes would be appropriate, too.

"We want to be taken seriously," Cahill says, a courtesy the women are still rarely offered by many in America.
Before the season opener against Detroit, at least three different men stopped by Harry Della Russo Stadium, visibly doubting what they saw. As the Renegades warmed up, they lurked from outside, visibly perplexed by the sight of adult women playing football.
Cahill bets the "vast majority" of NFL athletes also don't even know female tackle football players exist. She looks with admiration at NBA greats such as Steph Curry and the late Kobe Bryant, eager to promote WNBA players on social media.

"Stamp of approval from high-level male athletes goes a long way," Cahill says. Dan Lebowitz agrees that male football players are yet to match the efforts of NBA stars in advocating for their female counterparts.

"They can obviously create a larger sense and a greater depth of allyship," Lebowitz says.
Sam Rapoport echoes Cahill's concerns, but she doesn't want to tar all male players with the same brush.

Rapoport brings up the case of DeAndre Hopkins. The Arizona Cardinals receiver openly supports the endeavors of his sister Kesha Smith, a Houston Wildcats slotback who also runs a girls tackle football league in Texas.
Hopkins' example emphasizes the importance of awareness sharing, which must occur before NFL players can rally behind their female counterparts en masse, Rapoport thinks.
Meanwhile, Patriots players Jakob Johnson, Jonathan Jones, and Josh Uche cheered on the Renegades in a social media video ahead of the game against the Dark Angels.
From our squad to yours.

Good luck, @GoRenegades! pic.twitter.com/nPU0HqNAUu

— New England Patriots (@Patriots) May 8, 2021
And before Boston capped off the 2021 WFA season, Patriots owner Robert Kraft surprised the Renegades by offering to fly the team to Canton, OH, where they will square off with the Minnesota Vixen in the championship game at the Pro Football Hall of Fame on July 24.
A weekend to remember, and they're only getting started.

Robert Kraft sends the @GoRenegades off to the National Championship in style. pic.twitter.com/UPzkA8WLRB

— New England Patriots (@Patriots) July 22, 2021
Such gestures can indicate some overdue progress in the push for equality — particularly as Cahill remembers the times when NFL players, in her eyes, did more harm than good.
She recalls former Patriots stars Rob Gronkowski and Julian Edelman running football clinics for women in New England, a series of commercial events which involved on-field drills and a cocktail meet and greet.

Cahill calls the clinics "charades," which she planned on attending in the past — only to treat the drills seriously and "throw lasers" around to prove a point.
"That has literally nothing to do with developing women's football players," the quarterback says. "It's just a publicity stunt."
Ticket prices eventually thwarted her scheme, she explains. The concept of the clinics didn't impress Adrienne Smith either.

"Meanwhile, you've got women like me, like Jen Welter out there who are really doing football clinics for girls and women, teaching them the true X's and O's, that aren't getting necessarily the same platform," Smith says.

Smith and Cahill represent two different philosophies existing within the push against gender inequality in football.

Cahill focuses on promoting the sport through her play, staying in shape and trying to make Renegades games an attention-worthy product. She doesn't feel in control over the elements that could rewire people's minds and eliminate their deeply rooted preconceptions.

"I'm not going to tie myself up trying to unpack why men don't see women as equals," Cahill says.
Smith understands her approach.

"Everyone has their role," the wide receiver says.

Smith believes she belongs on the frontlines, utilizing her creativity and entrepreneurship to spark change. In 2013, she launched the Gridiron Queendom website, promoting football opportunities and female role models. Smith hopes she can convince girls and women worldwide that there is space for them in the game.

Three years later, she released the Blitz Champz card game for children. The game aims to champion inclusivity and boost women's visibility in football by featuring images of both male and female football players from diverse backgrounds.

As a Black woman living in America, Smith says that facing inequality in football is "just another day being Adrienne Smith." The wide receiver has lost an uncle to COVID-19 and her other enterprise, Harlem Hip-Hop Tours, might fall prey to the pandemic.

But Smith still believes she can be a catalyst for change.

"This may be the world that I've been born into, but it does not have to be the world that I leave," she says.

Elsewhere, Renegades owner Molly Goodwin and her partners are opening the Boston Renegades Foundation. Goodwin says the group aims to "empower women and girls through football," hoping to break some of the entry barriers by offering grants and scholarship for potential players while supporting ownership groups as they navigate through financial difficulties, among others.
Lebowitz says grassroots programs are the next step on the road toward equality in sports, a movement which he thinks is reaching a tipping point.

"The paradigm and passion of public opinion have shifted," he notices. Lebowitz explains the 24-hour media cycle and social media platforms have elevated and accelerated the conversation around equality, equity, and diversity in sports – just like in the other parts of society.

Such developments aid change agency, he adds, which can usher in meaningful change.

But there are concerns over the movement's ultimate effectiveness.

Zelee wonders whether the NFL's spotlight on female coaches and referees, along with occasional appearances by women on men's college football teams, will ever translate into support for, and the development of, female players in all-women competitions like the WFA.

"They don't have to be that special person," she says. "There's so many of us."
Rapoport thinks celebrating every success story within the women's game creates positive change.

"All progress is good progress," Rapoport says.

WFA commissioner Lisa King adds having former WFA players coach in men's games makes the association a talking point during NFL broadcasts, increasing the league's credibility and visibility.

Meanwhile, the coaching programs add a sense of purpose to the women's careers, King points out.

"Now they have something to aspire to," she says.

The WFA received a further visibility boost this year by signing the deal with the Pro Football Hall of Fame. The agreement will see the league's two best teams compete for the title at the game's hallowed ground over the next five years.
Despite the pandemic, the WFA also continued its partnership with Next Level Sports (formerly Eleven Sports), securing national TV exposure.
Meanwhile, Adidas became the gear provider of the Women's National Football Conference (WNFC) in 2020 as part of the sports apparel manufacturer's "She Breaks Barriers" initiative. It also donated $10,800 to the league's fundraising campaign, organized through the partnering IFundWomen platform.

The WNFC didn't respond to an inquiry into further details of the partnership.

"It's phenomenal," Smith says of the league's multi-year deal with Adidas, pointing out that fledgling businesses often face an uphill battle securing their first major sponsor.

"Anytime you can get an initial sponsor, especially a brand as phenomenal as Adidas, it makes it easier to secure other sponsorship dollars," the athlete and businesswoman says.

Smith challenges other large corporations to commit to the development of women's football. And when they do, to back their words with actions.

"Microsoft did a whole commercial during the Super Bowl, showing Katie [Sowers, a former San Francisco 49ers assistant and the first woman to coach in a Super Bowl] holding her Microsoft Surface [tablet] on the field," she recalls. The ad struck Smith as incongruent with the reality that she, Cahill, and their Renegades teammates face – where they study game film on their own time, between day job shifts.

"How come every player on a women's tackle football team doesn't have a Microsoft Surface tablet?" she asks.

Smith and Rapoport say the sport's ultimate goal should be the creation of a unified women's football league, which would increase its marketability by raising competitiveness and eliminating the abundance of blowout games.

Rapoport adds she has held promising conversations about the concept with King and WNFC owner Odessa Jenkins, although the costs involved make it a distant possibility for now.
Perhaps flag football's progress can translate into the growth of its sister competition. The National Association of Intercollegiate Athletics (NAIA) organized the first collegiate flag tournament for women this year.

Meanwhile, the American Flag Football League, supervised by Smith, added a women's division – promising the same $200,000 award that the men's champions receive.

"Any progress in girls and women's flag is progress in girls and women's tackle, and vice versa," Rapoport thinks.

King says the WFA will invite youth and high school flag football programs to the league's championship game for football clinics, hoping to show the girls that playing the sport can be a real possibility – even after entering adulthood.

"I think it's a big deal," King says.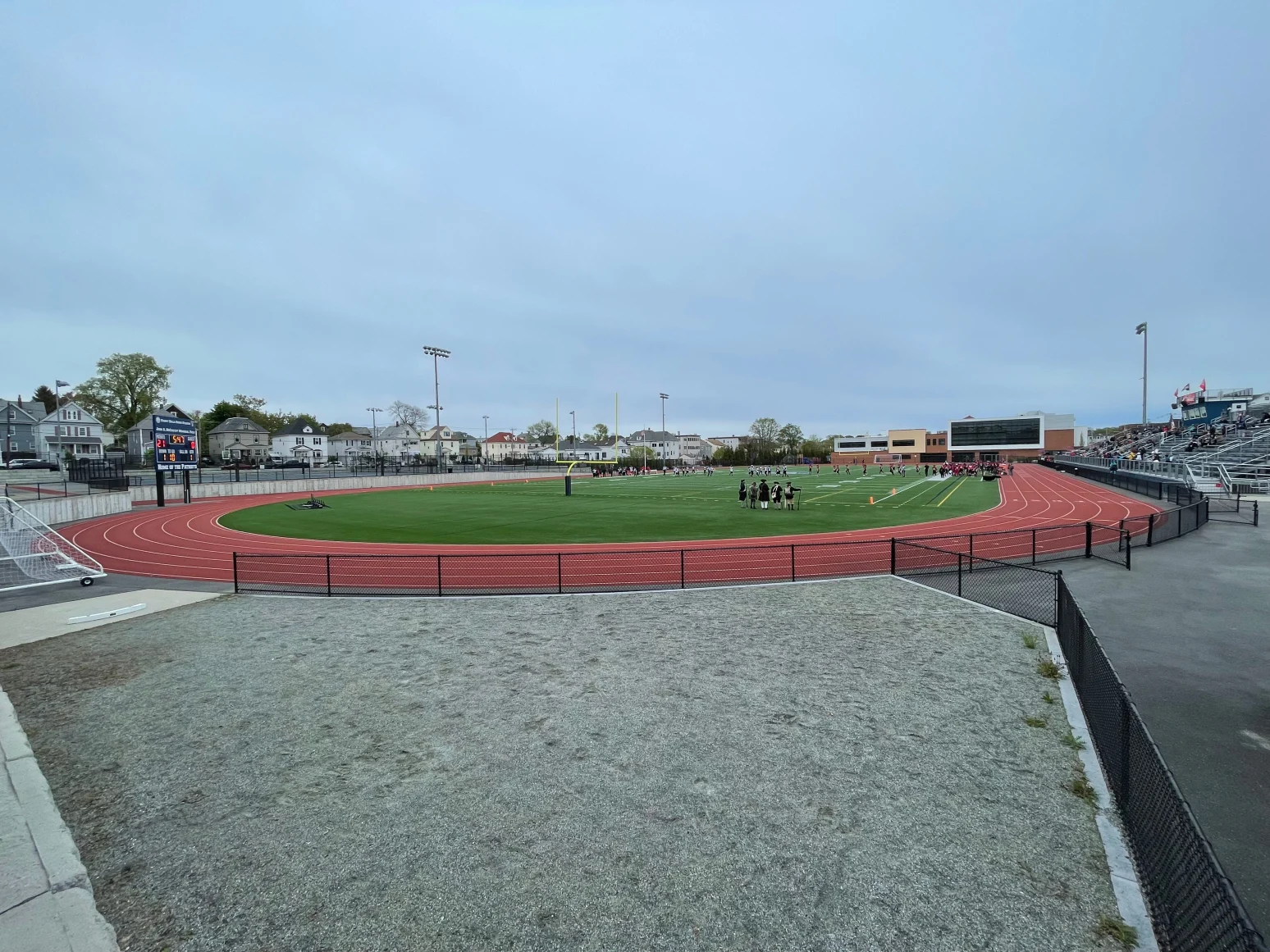 Back in October of last year, Cahill wondered whether a potential championship in 2021 would still count as a three-peat.

"You know where my vote is," she says.

The Renegades are on the verge of solving the riddle, heading to Canton and hoping to complete the journey that began with the May rout of the Detroit Dark Angels. Cahill threw five touchdown passes, doing her best to showcase the team's quality and skills as promised.
The game ended 62-0.

Despite the monstrous win, she is aware that some might have left Harry Della Russo Stadium with their minds unchanged, still viewing the quarterback as an amateur playing rec league football.
Not that it would make Cahill lose a minute of sleep.

"You have the guts to be a grown-ass woman with a job and a family and whatever else, and you're going to go to God knows where on a Tuesday night from eight to ten, put on a helmet, and smash into people, and then drive home and get up and go to work the next day," she explains.

"That ship has sailed on giving too many fucks about what people think, to be frank about it. You have to have a certain sense of self – this is who I am, this is what I do.

"And it's friggin' awesome."